Five strategic objectives for 2015-2020
Success has been achieved in the development of a strong Network founded on a very powerful idea: to make our heritage available, for all.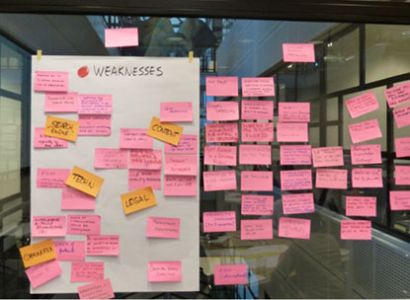 The fourth and final strategy workshop of the Europeana Network took place on 26 November. During this workshop we set ourselves the daunting task of 'synthesising' everything we learned from the previous workshops and bringing it all together into a coherent vision for the future. 
We kicked the morning off by presenting the main findings of the previous meetings. We first looked in depth at what were perceived to be the main strengths and weaknesses of Europeana and checked if this group agreed.
Most participants agreed that first and foremost, success has been achieved in the development of a strong Network founded on a very powerful idea: to make our heritage available, for all.
The best examples of this successful cooperation are our ability to bring together an enormous amount of very diverse material from every member state in Europe, across every domain. Not only that, we have been able to standardise the data model (Europeana Data Model) through which we make it available so that it all becomes interoperable. Some noted that the model is still quite complicated, but all agreed that it is good to have our data modelled in 'the grain of the web' and available without any restrictions (CC0 - Creative Commons Public Domain Dedication).  And that is what was mentioned as the biggest strength of Europeana: the capability to organise change in the sector.
The discussion also highlighted a number of weaknesses that need to be addressed. In particular the lack of focus that comes with a high degree of different expectations: the European Commission, the contributing institutions, end-users and creative industries all have their own wishes and these need to be harmonised into one single value proposition.
The rest of the day was spent on defining what that value proposition should be. We looked at Europeana from the perspective of all the stakeholders until a clear picture started to emerge. We concluded the meeting with a feeling that although there would never be agreement on every single aspect of the plan, there is confidence that the Europeana Foundation and the Network will continue to achieve real, meaningful change together in the future.
The outcomes of this meeting were discussed internally at the Europeana Foundation and presented during the Annual General Meeting on 2 December in Rotterdam.  See the presentation and full transcript.
These are the main strategic lines:
1. Shift from Portal to Platform: 'Portals are for visiting, platforms are for building on'.
That means less focus on inviting individuals to explore their heritage in a pre-defined way on the europeana.eu portal, and much more on developing communities who re-use the data, content, knowledge and technology that Europeana and its partners make available for them. This shift is essential to enable a future that will be read-write, where you will be able to take, and give back, to your community.
2. Improve Data Quality
Changing the way we distribute our heritage is of course directly related to the quality of the material that we make available for distribution. While we will continue to collect all the material that partners make available, the Europeana Foundation will focus strongly on the quality of that data. This means all data in Europeana should have relevant descriptions, previews of reasonable sizes, accurate geo-location data, clear rights statements (preferably to allow re-use) and persistent direct links to the objects.
3. Support the Public Domain: 'What is in the Public Domain should stay in the Public Domain.' 
We will continue to work with our contributing partners and other stakeholders to ensure that all digitised Public Domain material is freely available for re-use without any restrictions. In order to achieve this goal, the principles established by the Europeana Public Domain Charter and the New Renaissance report should be applied to all publicly funded digitisation projects in Europe.
4. Increase the amount of re-usable content: 'Open unless policies'.
Europeana will work with contributing partners on increasing the amount of material that is made available for re-use. We will work with these partners on promoting 'open unless' policies in the cultural heritage sector that ensure that digital content that is not subject to third party rights is made available under conditions that allow re-use. We will also work with distributing partners on making sure these conditions are not violated. We want to be a voice for the interests of publicly accessible libraries, museums and archives and their users and make sure they are properly represented on the European level during the upcoming copyright framework review. Our goal here is to keep the idea of shaping copyright agenda for the public good at the top of the policy agenda. This should allow provisions for non-commercial use, for example in education, and easier cross-border access.  
5. Improve discoverability: 'ensure that you can discover my culture in your language'.
We know that we won't solve the problems of seamless multilingual access on our own. What we must strive for is that solutions are found which are sufficiently open source to serve civic society in the long run. We must not look just for short-term solutions. Again, this must be about the Europeana Network acting in concert to make sure that this perspective is widely understood in the public debate.
Next steps
While these 5 recommendations were widely adopted by the Network, there remain two areas of work to be investigated before we can finalise this plan.
The first one is about impact. What are the desired areas of impact of Europeana as a 'catalyst of change'? While under the current strategic plan we are looking mostly at measurable outputs such as the amount of objects in the database, or the number of visits to the portal, this should change in the future.
When can we say Europeana has made a meaningful contribution to the cultural heritage field? During the meeting, four areas of impact were suggested that require deeper analysis: our ability to innovate and standardise, the improvements in quality, our ability to reduce costs for institutions and our ability to change the distribution mechanisms in the sector.
Secondly, we need to gain a better understanding of how to capitalise on these services, in a way that is native to our business model, so that Europeana becomes less dependent from central EU funding.
We invite you all to comment on our plans and give your feedback. This will be taken into account when we start writing the final strategic plan for Europeana for 2015-2020.