Who we are
Introducing the people and networks behind Europeana.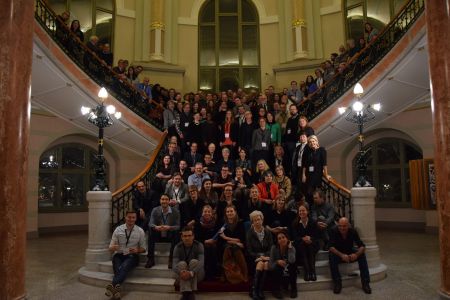 The Ecosystem
Europeana couldn't exist without the fantastic people who contribute their expertise and knowledge to our shared cause. They include thousands of cultural heritage and technology professionals from across Europe. They are all part of what we call the Europeana ecosystem and, within it, form various groups and communities, each essential to our combined service. Together, they work hard to provide the organizational structure, expertise and content needed to create and maintain a platform for Europe's cultural heritage.
The Europeana Foundation
The Europeana Foundation is the organization tasked by the European Commission with developing a digital cultural heritage platform for Europe. Europeana Foundation staff represent around 20 different nationalities and work mainly in The Hague. We work in small teams, each with a specific focus, but all supporting each other. Some address our main markets - the organizations who publish material with Europeana, the people who want to access that material online, and those who want to use it in new ways. While others work on developing and maintaining the Europeana products, infrastructure, technology, policy and communications.
The Governing Board
The Foundation has a Governing Board of experts and representatives from cultural and scientific heritage organizations across Europe. The Europeana Foundation Governing Board is legally and financially responsible for the activities of the Europeana Foundation. It decides the Europeana Foundation's strategic direction and prioritizes its activities through the yearly business plan.
Europeana Network Association
This band of dedicated supporters is central to the smooth running and content breadth of the Europeana service. The Europeana Network Association has over 1,700 members who work for other organizations and share an interest in digital cultural heritage. They all support the values and purpose of Europeana. The work that they do to advance Europeana sits within the work they do in their own organizations. In particular, their experience and expertise helps shape the Europeana Foundation's work and services.
The Network Association's Members Council
The Foundation and Network Association work together chiefly through the Network Association's Members Council, which is itself represented on the Foundation's Governing Board. Together, they decide how Europeana will promote and support digital cultural heritage over the next five years and what its yearly business plans should look like. The Network Association works in Task Forces to address specific challenges that are of common interest to members, and promotes the work of Europeana through members' own professional networks.
Data partners
Of course, the Europeana Collections rely on the goodwill and cooperation that comes from over 3,500 galleries, libraries, museums and archives. These institutions make up our network of data partners. We work with them through a number of regional, national, domain and thematic aggregators, communicating through a dedicated Aggregator Forum.
Expert groups
EuropeanaTech is a community of experts and researchers from the R&D sector. It makes sure that Europeana doesn't just keep up-to-date where technology is concerned; it leads the way.
Our Labs community is made up of creatives (developers, designers, makers and entrepreneurs) who are interested in using digital cultural heritage material in their (sustainable) projects.
Europeana Education brings together all those who want to embed Europeana's collections in both formal and informal education. This informal digital network is open to the whole education community, including educational publishers and providers, NGOs and other professional and membership associations and representatives from Ministries of Education.
Europeana Research aims to connect quality data available from the cultural heritage sector with the digital humanities, directly via Europeana as well as through collaborations with research infrastructures. It is supported by an Advisory Board made up of a wide range of digital humanities experts. In short, it aims to: bring digital humanities researchers and Europeana together, build a community and improve access to cultural heritage for research.
Europeana Collections host a diverse and growing range of thematic collections, for example, on the topics of art, fashion, photography, 1914-1918 and music. Behind these collections are advisory boards, and content and curation experts, from individuals to groups such as Photoconsortia and the Europeana Fashion International Association.
Digital Cultural Heritage and Europeana (DCHE) is an EU member countries' expert group. It provides a forum for cooperation between member countries and the European Commission in the areas of digitization, online accessibility of cultural material, and digital preservation. It also gives guidance on Europeana's annual work programmes.
The Europeana Communicators Group brings together cultural heritage professionals with an interest in communications, marketing, PR and social media.